Two days ago Christina from
Lemoncake Wardrobe
informed me, that I she gave me my very first award for my blog - "one lovely blog award"!!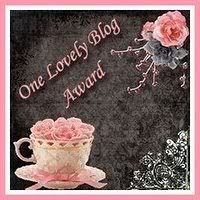 What I must do ow, that I got my precious award, is:
1. link back to the person that gave me the award (check!)
2. share 7 random things about myself
3. award 15 blogs
4. Drop them a note and tell them about it!
Let's get started!
The 7 random things:
1.I hate coffee
2.I am learning Serbian
3.Pattern making is not my kind of thing!I prefer sewing!
4.I adore patisserie
5.I want to move out
6.Since the last week I can't sleep before it's 5.30 a.m
7.I'm dreaming of a potential travel to the Canary Islands in February!! =)
(That was pretty random, I guess!)
And the blogs, that I am awarding, are:
1. Christina from
Where the wild roses grow
2. Lorelai from
Lorelai's Things
3. Vero from
Blame it on the Boogie
4.
Souvenirs
5. Kate from
See Kate Sew
6. Allie from
Teacup Allie
7. Annie from
Anne's cupcake party
8. Barbara from
Wildcherry Temptations
9. Jo from
The amethyst and the Emerald
10. Despoina from
What you miss when you blink
11. Wizy Wiz from
Fashion Treats
12. Konstantina from
Limonspective
13. Chloe from
chloetonic.com
14. Laura Mashir from
Fashion Sketchbook
15. Ella and Chloe from
Chloe in Wonderland
That's it!!!All I have to do now is number four!!
See you soon! :)